The Schools Assigned to Brickell and Brickell Key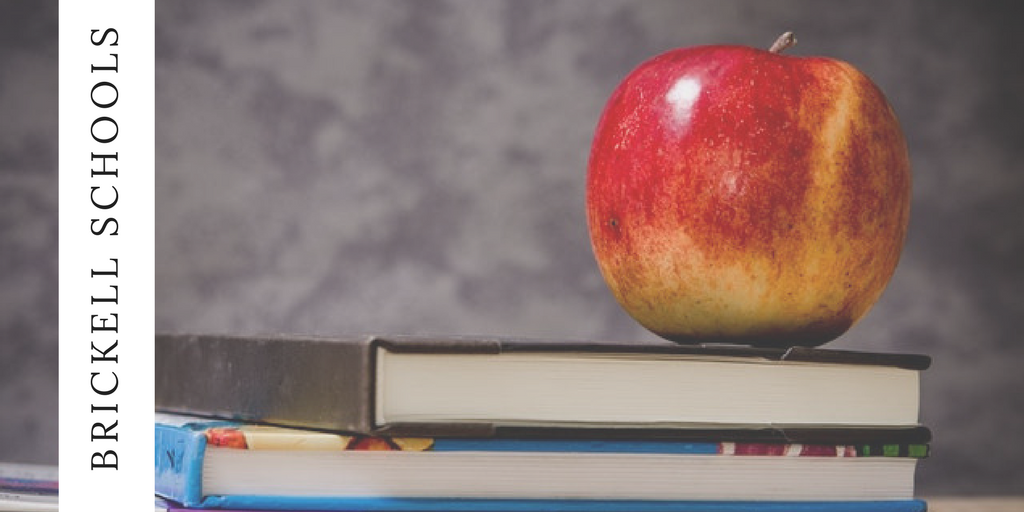 Brickell is Miami's financial Center featuring business towers and luxury condominiums. It's nestled right up against Miami's South channel of Biscayne Bay and features shops, restaurants, and residential buildings. The Brickell Avenue bridge spans the Miami River and features views of the waterfront and Miami Beach.Brickell really only stretches on the east side of Interstate 95 to the water and includes a small island called Brickell Key. Downtown Miami is just to the north.
Within Brickell, there are several private schools and academies as well as public schools with the Miami-Dade County Public Schools. Brickell is typically assigned to:
Coral Way K – 8 Center
Southside Elementary school
George Washington Carver middle school
Ponce de Leon Middle School
Miami Senior high school
The Miami Senior High School, located at 2450 SW. 1st St. in Miami is the oldest high school in Miami-Dade County dating back to 1903. It's 2.8 miles from Brickell. It receives a five-star parent rating, however, for academics and test scores it's rather well. Another option is the Robert Morgan vocational tech Institute for grades 9 to 12. This is 16 miles away and is more focused on academics and vocational studies.
There are two middle schools; the George Washington Carver middle school which is 4.5 miles away assisting grades 6 to 8 and the Ponce de Leon Middle School, which is 5 1/2 miles away also serving grades 6 to 8. The George Washington Carver middle school actually receives a 10 out of 10 by great schools.org. It received its high scores due to test scores, advanced courses, student progress, equality, and general environment.
The Coral Way K – 8 Center is less than a mile and a half and is the nation's first bilingual school. Bilingual education is a priceless experience for the Miami area and offers an international studies program in Spanish.
Southside Elementary is located right in Brickell and has been designated an 'A' school by the Florida Department of Education School Accountability Program. Southside also comes in at 7 out of 10 for test scores and student progress. There are approximately 850 students from a pre-K to fifth grade. The school is located at 45 SW. 13th St.
There are some private schools located within Brickell as well including the KLA School, which is a unique brand in early childhood education and a modernly designed preschool and the Wikong Chinese School for people of all ages learning Chinese and the Chinese language.
For more on Brickell - Visit our Main Brickell and Brickell Page. Contact Me anytime for more details on Brickell schools and homes for sale.