Cipriani Residences Brickell Condos for Sale in Brickell Miami
Condos for Sale at Cipriani Residences
Included below is information about condos for sale at Cipriani Residences Brickell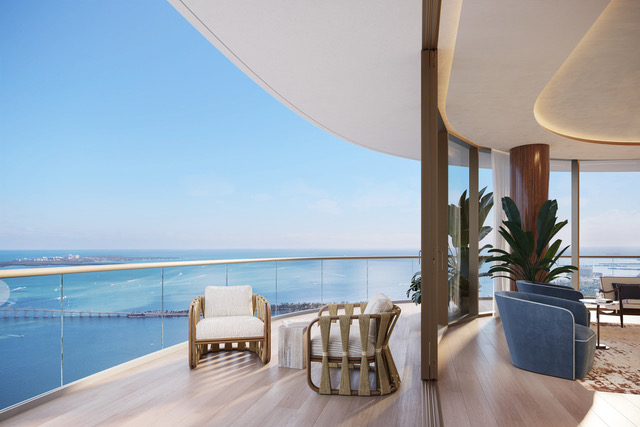 Positioned on a privileged location, 1420 S Miami Avenue, at the gateway to the vibrant Miami neighborhood of Brickell, Cipriani Residences Miami epitomizes the timeless Italian spirit, style, and service for which the brand is so revered.
If you would like more information on any Cipriani Residences Brickell real estate listings, contact us any time. We are happy to help you discover the pre-sale condo properties at Cipriani Residences and get in on being one of the first to own a luxury condo property in this premier community before construction has finished.
And, if you haven't already, be sure to register for a free account so that you can receive email alerts whenever new Miami listings come on the market.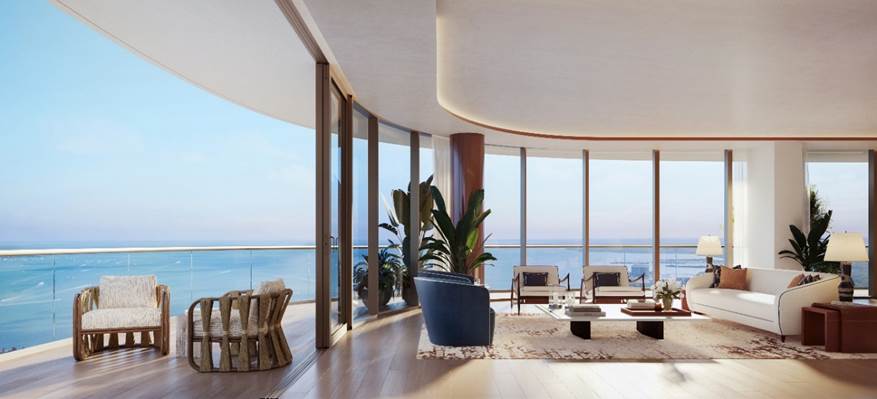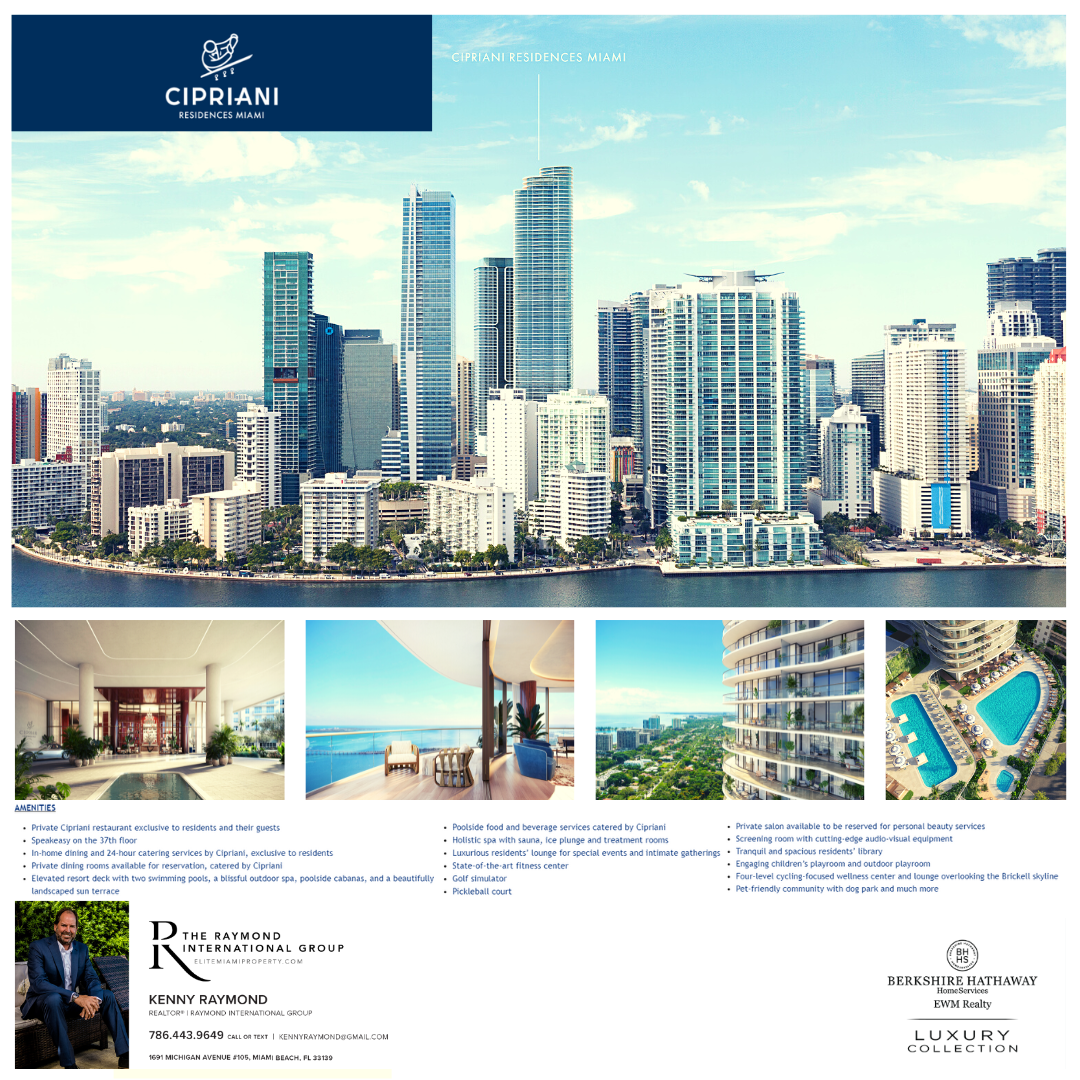 Pre-Construction Condos in Cipriani Residences on Brickell
To live in Cipriani Residences Miami is to enjoy those signature service standards first established at Harry's Bar in 1931 and perfected through generations. Individual tastes are indulged, and needs are anticipated with an intuitive understanding of when and where their attention is required.
The Cipriani Residences luxury condo community is currently under construction and pre-selling condo units. The planned construction date of completion is for the year 2026. This is a rare opportunity to own a brand new luxury condo in Miami's most desirable luxury condo Mecca.
Living in Miami's Brickell Neighborhood
Brickell is one of Miami's most sought-after neighborhoods to live in. It is a mixed-use urban area right next to downtown Miami on the south and is sometimes considered the same location. Brickell is one of Miami's most walkable, most desirable locations. It is full of luxury high-rise condo communities with the best views of the water, and Miami skyline.
There is hardly a reason to ever leave the neighborhood with its walkability and location on the shores of Biscayne Bay. One of the most notable spots is Brickell Centre. Another great hub of activity in Brickell is the Mary Brickell Village this shopping center is named after a prominent member of the family for which the neighborhood is named. The Mary Brickell Village is full of high-end shopping, and amazing restaurants. In addition to the popular mixed-use shopping centers, there are unique boutiques hidden gems, and some of the world's most amazing restaurants.
Brickell has two nicknames, the "Manhattan of the South" for its bustling high-end metropolitan fee, and "Wall Street of the South" for its many worldwide financial institutions. Brickell has long been home to a large collection of banks and financial-oriented businesses. You will find more international banking options on Brickell than anywhere in Florida.
Popular Brickell hotspots near the new condo community include Simpson Park, the spa services and fine dining available at the Four Seasons Hotel that is practically across the street, the PM Fish and Steak House on the south side of the same block, and Jade Sushi right on the water.
Cipriani Residences Individual Condo Homes
This magnificent building rises to 80 stories. Comprised of 397 residences, Cipriani Residences Miami boasts magnificent panoramic views of Biscayne Bay, Simpson Park, Coconut Grove, and the Brickell skyline. The project is masterfully designed by a team of visionaries that include Arquitectonica and 1508 London, and developed by Mast Capital.
Residences range from one-bedroom plus den to four-bedroom residences ranging in size from 1,194 square feet of interior with 757 square feet of exterior to over 3,495 square feet of interior space and over 1,053 square feet of exterior space. In addition, every residence features generous living areas with ceiling heights of 10 feet, floor-to-ceiling sliding glass doors and windows with magnificent panoramic views, and terrace access from the living room and primary bedroom of every residence.
Development Facts & Highlights:
MAINTENANCE is approximately $1.40 a foot (applies only in the living space)
RENTAL POLICY is twice a year; 30 days minimum.
APPROVED PROJECT
ZONE X (Elevated land, out of flood zone) This will help keep your insurance premiums low
HOSPITALITY BRAND of 4 generations of luxury hospitality that span close to 100 years.
FIRST CIPRIANI RESIDENCES to be constructed from the ground up (Pre-construction)
INCREDIBLE TEAM is comprised of Arquitectonica, 1508 London, Mast Capital, and Cipriani
Finding a Luxury Condo in Cipriani Residences
Start your online search for all condominiums for sale at Cipriani Residences, Miami's premier luxury waterfront community and condominium mecca. Contact me to find out how you can purchase a pre-sale property in this upcoming luxury condo community. Our website updates from the local MLS every 15 minutes if you would like to search other condo properties available in Miami, but for even faster service be sure to sign up and register for one of our free accounts to be notified when new condos for sale on Brickell become available.
As always, for expert service and real estate care throughout Brickell and the Miami real estate market, trust your next purchase to The Raymond International Group.
Contact The Raymond International Group