Top 5 Reasons to Move to Miami
Posted by Kenny Raymond on Tuesday, August 16, 2022 at 8:22 AM
By Kenny Raymond / August 16, 2022
Comment
Miami, FL is famous for its pristine beaches, non-stop nightlife, and fantastic warm weather. Interestingly enough, Miami is the only city in the United States to have been founded by a woman! For those with an appreciation for the brilliance behind architecture, Miami is home to the world's largest collection of Art Deco architecture. Miami has ranked as the 7th most global city in America and is considered the #1 healthiest city in the US. The question may have crossed your mind if moving to Miami was the right choice for you. Continue to read for 5 great reasons to relocate to Miami!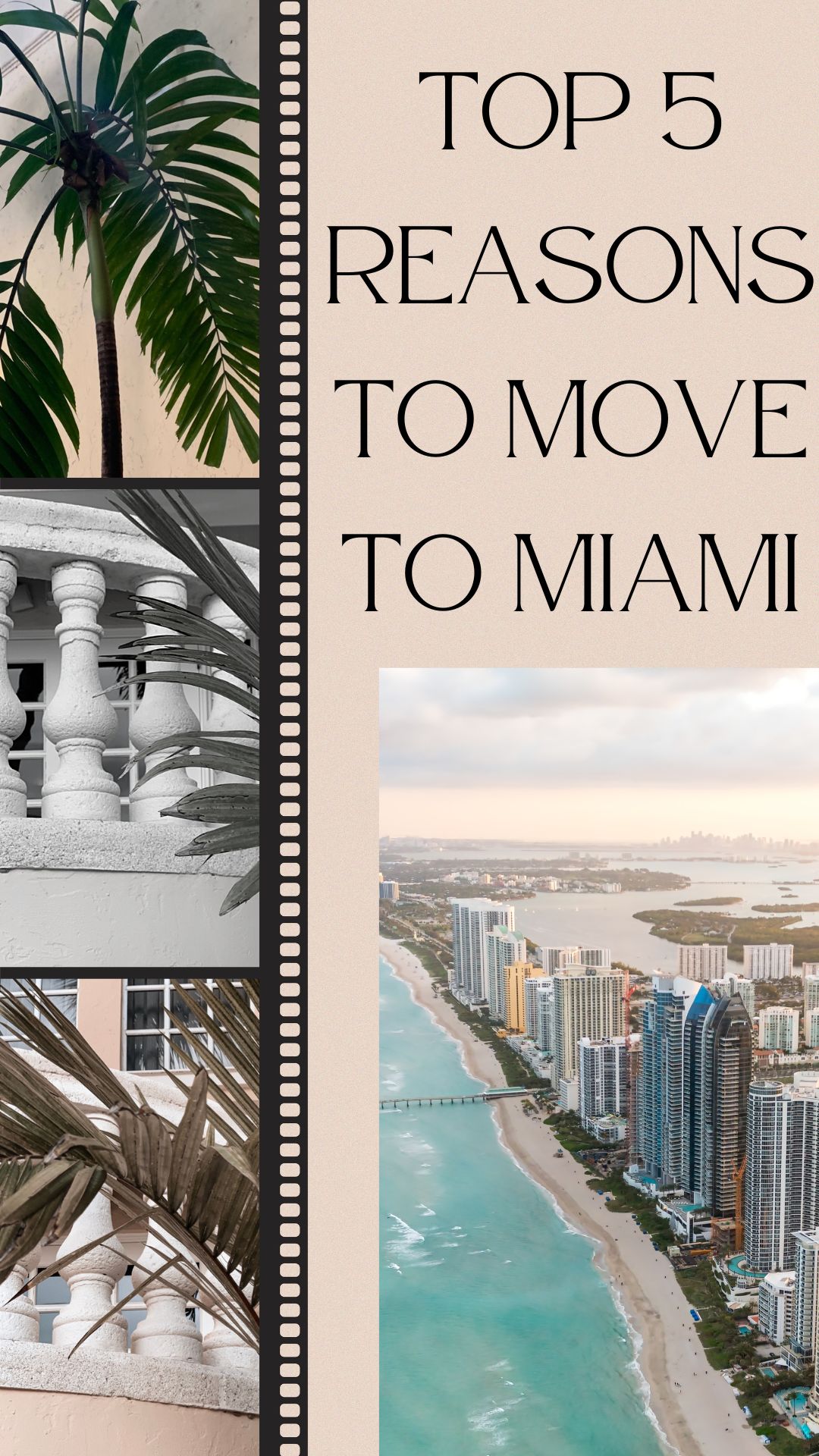 1. Welcome to Diverse Neighborhoods!
Miami is a crock pot full of rich cultures from all corners of the world, and Miami does not offer the typical cookie-cutter neighbors. Miami is seen as an international destination that attracts millions each year. Let's take a deeper look into some of these exotic neighborhoods.
Little Haiti
Little Haiti is best characterized by its French-Creole designations and afro-Caribbean festivals. Located just north of Downtown Miami, the street life, restaurants, theatre performances, and other cultural activities bring the beauty of Haiti to the US, sharing the culture with everyone. For some authentic food, try out Chef Créole Seasoned Kitchen for griot (fried pork), and some oxtail.
The Wynwood District
This section of Miami is the best-known hub of contemporary and street art. Located north of downtown Miami, meet some of the finest artists and see the most stunning wall murals America has to offer. On your walk-through, grab a coffee at Panther Coffee, or find a nice cold beer at the beer-to-go original craft spot, Wood Tavern.
Miami Beach
This neighborhood is filled with everyday locals, who all share one major thing in common: a love for sunny beach days and time in the water. Miami Beach has made a name for itself in the Arts, very similar to the Wynwood District. Every year, the city center hosts the legendary Art Basel which attracts press and well-known figureheads. When you walk to the beach, don't miss Joe & The Juice, a haven of fresh juices, healthy shakes, and delicious sandwiches.
Little Havana
Little Havana is often compared to feeling like an extension of South America, the Dominican Republic, and Cuba wrapped in one. Little Havana offers an authentic Hispanic culture, often finding that you are being served with a warm smile by the residents of this neighborhood. If you want authenticity in Cuban food, visit La Carreta for a chicken "Vaca Frita." For a mixture of Dominican and South American cuisine, try Club Tipico Dominicano for chuleta frita (fried pork chops), or filetillo salteado (sautéed beef).
2. Enjoy Top-Tier Beaches
There is shocking growth in Miami, with 1,000 people claiming Florida as their new state every day. The beauty of Miami leads us to our next reason to consider relocating to the area: spectacular beaches. Whatever activity you can think of on the beach, from volleyball to paddle boarding are a must when visiting the beach. Here are a few beaches that are a must to see:
Lummus Park Beach
Lummus Park Beach is one that reminds you of classic scenes from a movie. When you visit this park you can expect to be surrounded by vibrant colors, submerge in the warm waters, find shade in swaying palm trees, and listen to the hustle and bustle of beach-goers. Lummus beach is consistently rated as the top beach to visit when in Miami.
South Pointe Park Pier
This is a beach that boasts 17 acres, with the 450-foot pier as the main gathering spot for locals to fish and watch kayakers, surfers, and jet skiers. This is a great place to have picnics with families, as it gives a sense of slower living away from the busyness of the city. Some key features are viewing stations, animal-friendly lighting, and recycling bins.
Surfside
Nestled between Miami Beach's North Beach neighborhood and Bal Harbor. It is known as Miami's uptown beach town, encompassing a retro appeal. It is different than its other sister beaches in that it is more tucked away from the bustle of the city, giving off a small-town beach.
Haulover Beach
This is a beach that keeps the company of nudists. Yep, you read that correctly, folks! Haulover beach is the oldest recognized public nude beach, with beach attire being optional. Despite this, it is still considered a family-friendly beach, kept clean and patrolled, with the beach often hosting kite-making workshops. There are tennis centers, golf courses, and dog-friendly parks.
3. An Unmatched Nightlife
A key reason for many young people moving to Miami is its superb nightlife. People from all over the world come to experience a slice of what Miami has to offer when the sun sets, and the party starts. There are an estimated 2.3 million people that visit Miami every year, with many coming to indulge in the nightlife. Apart from some pretty famous clubs frequented by tourists and locals alike, Miami does have a few other night-time activities to offer.
Hit a Dive Bar
Dive bars can be an ideal hang-out spot to mingle and get to know interesting people. Unlike clubs, music is played at the right level to be able to hold conversations with others, and the selection of adult beverages is impeccable. Often having the reputation for being nitty-gritty coves harboring dodgy people, many favorites teach you the lesson not to judge a book by its cover. In downtown Miami, check out The Corner, in Coconut Grove, check out Sandbar, and located in Wynwood, check out Gramps.
Lounge on a Rooftop
Rooftop lounges are often known as the middle ground between upbeat clubs and low-key bars. Located in Brickell City Center, look to Sugar, a hub that attracts foreign beauties and white-collar business, magnates alike. Drinks are pricey at this location, but the views of Miami make up for the check at the end of the night. Alternatively, Area 31 located in Epic is a hit among the twenty-somethings.
Enjoy a Movie at an Indie Theatre
Watch an indie film or a film noir at the O Cinema in Miami Beach, or in Wynwood. Coral Gables Cinema offers an after-hours series of cult classics.
4. Live Clean in the Healthiest City
Locals flock to juice bars and gyms, many of which can be found all over Miami. The same city that has a reputation for such distinguished nightlife is notorious for celebrating health trends. According to Business Insider, Miami is ranked as the number one healthiest city to live in all of America. A popular juice bar to check out is Dr SMOOD (The Healthy Company), with certified organic, plant-based and gluten-free & dairy-free options available to all people. A popular gym to visit when in Miami is Elev8tion Fitness, a wonderful facility that is a wonderful environment with friendly staff.
5. Enjoy Flavors from Around the World
One of the most enjoyable aspects of moving to Miami is to partake in the international cuisine. Exquisite restaurants in Miami are the norm, with any food from any culture ready to be eaten at your convenience. It is a foodie's dream come true with a wide variety of swoon-worthy restaurants. A few high-ranking restaurants include:
For something more laid back and doesn't require you to get dressed up, there are both quantities and quality when it comes to food trucks in Miami. Enjoy a more relaxed scene in the warm evening of Miami.
For more information on Miami real estate, contact me at any time.