Top 13 Best Smart Home Devices
Posted by Kenny Raymond on Monday, December 5, 2022 at 11:42:37 AM
By Kenny Raymond / December 5, 2022
Comment
What makes something a smart home device? Generally speaking, these devices are defined by their ability to connect to a Wi-Fi network, allowing users to interact with it from their smartphones. Many of today's smart home products are compatible with Amazon Alexa and Google Assistant voice commands. Apple HomeKit-compatible gadgets have support for Siri voice commands. All of these assistants come with amazing qualities, including allowing you to set timers, turn connected gadgets on and off, answer questions, and do much more. We have selected 13 endlessly useful smart home devices-from smart speakers to air conditioners-that you will love to have in your home.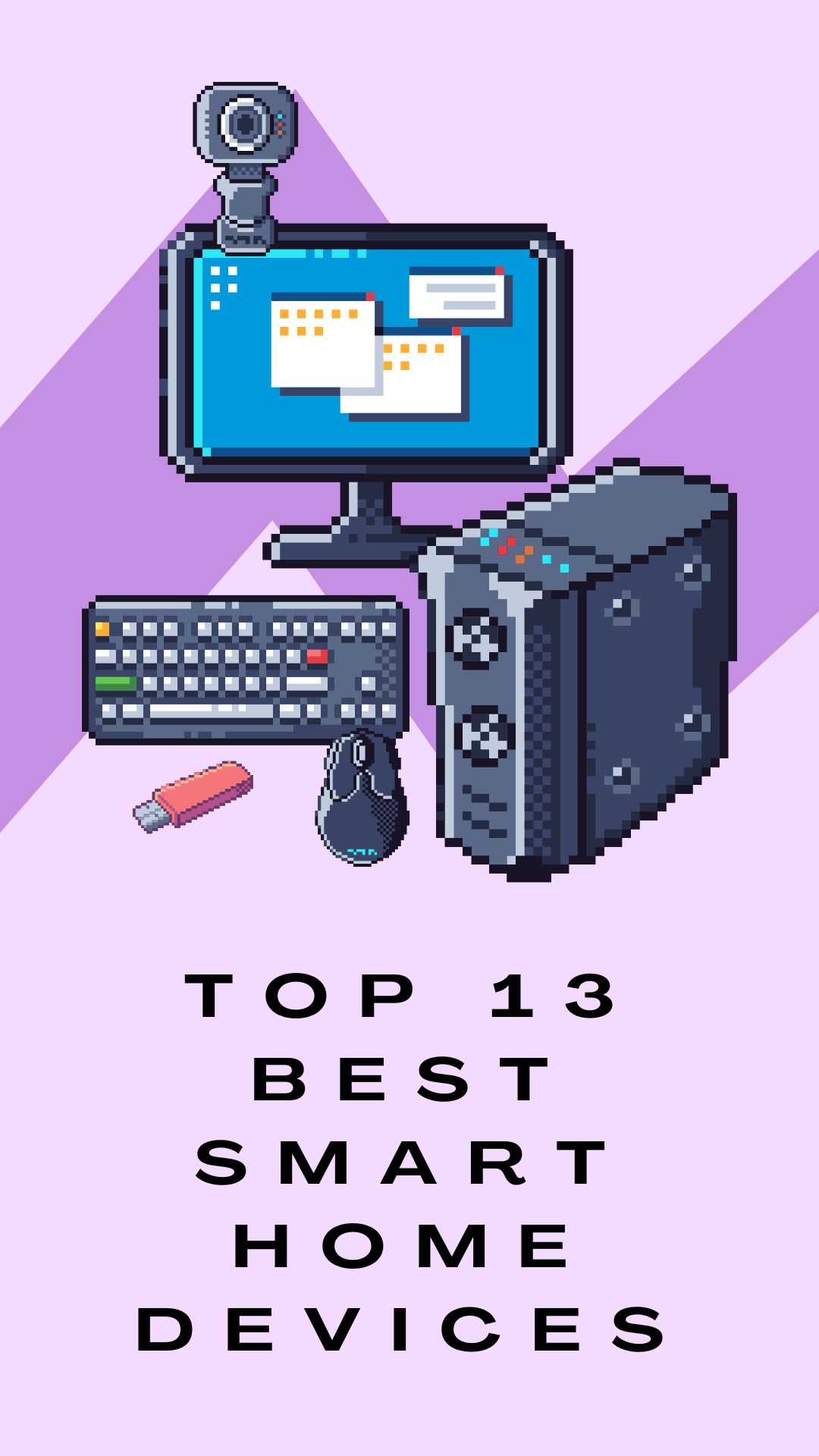 1. AMAZON ECHO SHOW 8, 2ND GEN
There is a lot that happens on this 8-inch HD screen. Featuring Alexa controls, you can check your calendar, start video calls to other Alexa or Echo users, turn on connected devices in your house, watch TV and movies, and listen to both music and podcasts. You can pair the Echo 8 with your smart home devices, enabling you to control lights, security cameras, and thermostats. When you interact, the Echo Show 8 can act as a digital photo gallery, rotating through your most memorable photos.
2. MIDEA U INVERTER WINDOW AIR CONDITIONER
Midea's U Inverter air conditioner, unlike many of its rivals, has a clever U-shaped design, using a window to separate the compressor from the bit that's inside the room. The setup makes the AC silent because the window helps block the noise from the compressor, allowing users to open the window and get fresh air anytime. Featuring Wi-Fi connectivity with app controls, as well as support from Amazon Alexa and Google Assistant voice commands. This AC unit comes in 3 different cooling capacities: 8,000 BTU, 10,000 BTU, and 12,000 BTU.
3. WEMO SMART PLUG
The WeMo mini smart plug can work with Amazon Alexa, Google Assistant, and Apple HomeKit. The gadget features a space-saving design, which ensures that it won't block other power outlets. The Wi-Fi-connected device can be controlled from anywhere, as well as setting the schedules of all connected appliances. Randomized light sequences can be created while away from home which creates the impression you haven't left.
4. BOSE SMART SOUNDBAR 700
Bose's best soundbar not only sounds terrific, but it is also a workhorse of a smart device. Equipped with both Alexa and Google Assistant, you will get hands-free voice control of the soundbar, your TV, your phone, or even your cable box. Surround sound and deep bass will make any movie night, gaming session, or sports event so much better. When you speak, no matter the volume of your TV, the soundbar will easily detect your voice. It also comes with the Bose Music app, or the remote control.
5. AUGUST WI-FI SMART LOCK
The August Wi-Fi Smart Lock is compatible with most deadbolts, so it can integrate just about any front door into a smart-home setup. This gadget allows you to keep your existing home keys. A mobile app allows you to manage access to the lock, check its usage history, and receive notifications when someone opens the door. You can also grant access to specified people while away from home. It is compatible with Amazon Alexa, Apple HomeKit, and Google Assistant. This means that you can both control and check the status of your door with voice commands.
6. ROBOROCK E5 MOP ROBOT VACUUM AND MOP
The Roborock E5 is both a sleek and quiet robot vacuum that can run on its own or can be controlled by a remote. It has sophisticated Optic Eye navigation and room-mapping tech, so every inch of your floor is cleaned. It vacuums and mops, and can do these two things simultaneously, ideal for both tile and laminate flooring. The robot can clean for up to 3.3 between charges, and the large dustbin makes this a great choice for large spaces in one go.
7. ARLO VIDEO DOORBELL
Sleek and easy to install with existing wiring, the Arlo video doorbell allows users to both see and talk to visitors even when away from home via their smartphones. The Alexa-compatible gadget will call your phone directly when a visitor presses its button. It can also send you notifications when it detects motion. The weatherproof device is capable of streaming high-resolution video with a 180-degree maximum field of view, even in the dark. It can contact emergency services with a built-in siren, making this the ultimate choice for your home's protection.
8. COWAY AIRMEGA 400S SMART AIR PURIFIER
The Coway Airmega 400S air purifier can cover a whopping 1,560 square feet of living space. One of the best of its kind, the product has a built-in, real-time air-quality sensor. It also features a dual-filter setup that allows it to keep both particles and odors at bay. You can control the air purifier via a smartphone app or Amazon Alexa voice commands. There is also the option to automatically replenish filters using Amazon's Dash Replenishment service.
9. PHILIPS HUE A19 WHITE AND COLOR LED SMART LIGHTING KIT
The lighting kit by Philips supports a whopping 16 million colors, including 50,000 shades of white, allowing users to find the perfect ambiance at all times. This set is compatible with Amazon Alexa, Google Assistant, Apple HomeKit, Nest, and other popular home-automation programs. The starter kit will include all essentials to get you started: three bulbs, a connectivity hub, and a smart button.
10. ECOBEE SMARTTHERMOSTAT
The ecobee SmartThermostat uses room sensors to monitor the temperature in your home. Depending on the size of the living space, multiple sensors can be connected for the best results. The device's smart features include Amazon Alexa and Google Assistant support via a built-in speaker and microphone. It also offers compatibility with Samsung SmartThings, Apple HomeKit, and the IFTTT home automation standard.
11. APPLE HOMEPOD MINI SMART SPEAKER
Apple's palm-sized HomePod mini smart speaker doubles as a HomeKit hub. The reasonably priced gadget allows you to control several smart home products with Siri voice commands or directly from your Apple device. The HomePod mini sounds great, especially considering how tiny it is. For true stereo sound, use multiple mini units in a multiform setup.
12. LG CX SERIES SMART OLED TV
The LG OLED CX series smart 4K TV is powered by artificial intelligence and gives you amazing quality, as well as seamless access to Amazon Alexa and Google Assistant. This makes the TV not only an amazing entertainment centerpiece but also a powerful smart home hub. The picture quality offered by the LG CX Series is breathtaking, thanks to high-quality image processing, so whatever you are watching will look amazing.
13. DYSON PURE HOT + COLD AIR PURIFIER
The Pure Humidify + Cool air-purifying fan by Dyson is a design and technology marvel that's compatible with Amazon Alexa and Siri voice commands. This premium product monitors the air quality in your home in real-time and shows you its levels on an LCD display or through its smartphone app. This device will cool and humidify the air as well, using ultraviolet tech to remove 99.9% of bacteria in its water tank ahead of the humidification process. The product uses HEPA and carbon filters to remove airborne particles and allergens as well as gases from your living room space. You can also control the Pure Humidify+Cool via a sleek remote control.
For more information on smart-home devices of this year, check out our website. For more information on how to go about selling your home, contact me. I am an expert in Miami condos, luxury homes, and Miami Beach Real Estate.