Is An All Cash Offer a Done Deal?
Posted by Kenny Raymond on Wednesday, November 24, 2021 at 8:37 AM
By Kenny Raymond / November 24, 2021
Comment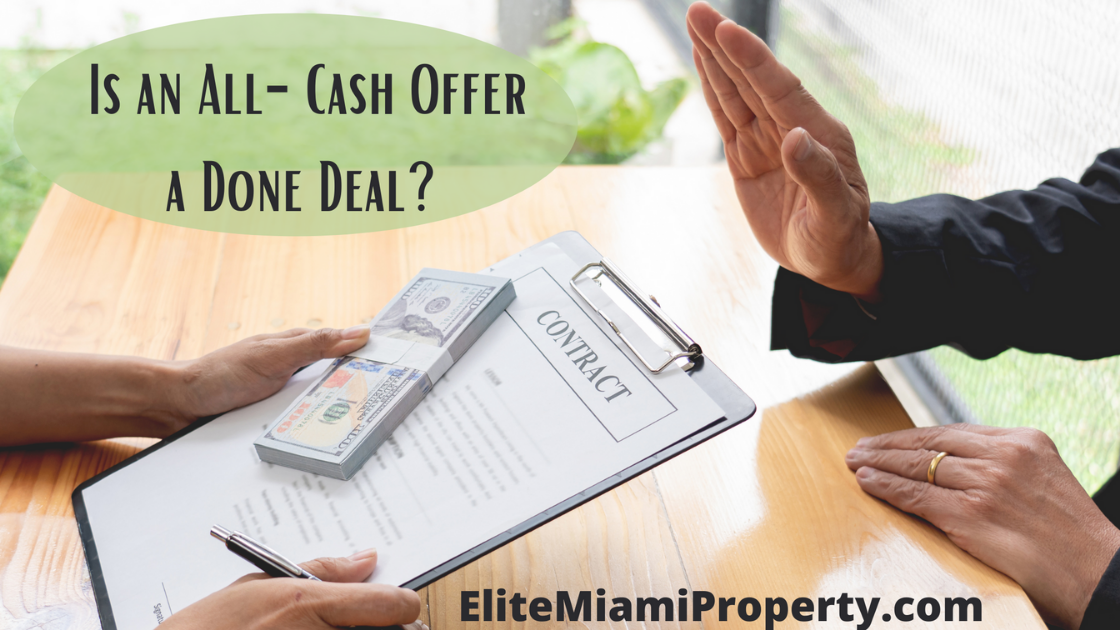 When selling a home, receiving any offer is generally full of excitement as it provides the potential of a successful sale. There is nothing worse than choosing to list your home, only to find that months later your home is still on the market, you haven't received offers, or your home has had multiple offers fall through, which is one of the many reasons that receiving an all-cash offer is often reason to celebrate.
Related: Miami Home Sales are Primarily Cash Sales
Generally speaking, when receiving all cash offers this is most likely a sign that the offer is good and there is no risk of the offer falling through, however, this doesn't mean that the sale is complete as there are still multiple steps that need to be made prior to the closing of the sale. The biggest perk to accepting an all-cash offer is simply the near guarantee that the sale is a done deal, however, contrary to common belief, an all-cash offer can still fall through.
Contingencies
While you may not risk having the financing of the loan fall through, that does not mean that all-cash offers can't still contain other contingencies. From inspection contingencies, appraisals, etc. there are other way to lose the offer than just from problems with financing.
Offer Price
You may notice that in some instances cash offers are much lower than those of more traditional financing. The reason for this is simply because the chances of an all-cash offer falling through is much slimmer than that of financed offers. While this doesn't pose a risk of falling through per say, it does mean that the seller would have to be willing to accept the lesser offer in hopes that it would limit the chances of the offer falling through.
Ultimately, all offers to purchase real estate, whether with traditional financing, VA loans, all-cash offers, etc. all pose a risk of falling through, and while some may have less risks than others you should never bank on the deal closing until the paperwork and contracts are signed.
Related: Why is the Rental Market so Competitive Right Now?
If you're currently searching for a new home, are ready to sell your home and need a qualified seller's agent to assist you, or if you have any further questions regarding Miami Real Estate, please feel free to contact our office at any time.