Boating and Dockage on Miami Beach
Posted by Kenny Raymond on Wednesday, May 27, 2015 at 12:01 PM
By Kenny Raymond / May 27, 2015
Comment
Miami Beach is a barrier Island that separates the City of Miami by Biscayne Bay. There are many homes on the bay with little or no protection from the wakes of boats or the weather. If you have a large boat that will be moored in the water you have to be careful of certain parts of Venetian Islands, Sunset Islands facing west, North Bay Rd, Bay Rd and LaGorce Island. Most people keep smaller boats on lifts behind their house opting to put their larger yacht in a protected marina with all the services. These would include Sunset Harbor, South Beach Marina and some at the private Fisher Island Marina, at the current time some dockage is being built for larger yachts on Watson island as part of a large project.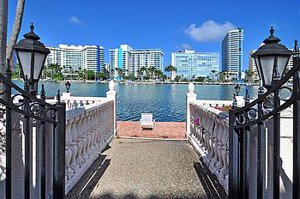 With the only way to get to this Island is through a ferry there is private dockage on the South Side of the Island for boats of all sizes. Do not approach from the South East side as its shallow and full of rocks. When approaching from the West stay closer to the Island as there is a flat that runs from there to the West and South to Virginia Key.
INDIAN CREEK CANAL
Pinetree Dr is located on the canal and is more protected and has a no wake zone throughout. You have a draw bridge on 63rd street which you can enter the waterway. Draft is average around 7ft but can be as much as 15ft. It also can be entered though Surprise lake (around 47th Steet) but you will have a west bridge on Alton and 47th with a 11ft vertical clearance and then entering Indian Creek another fixed Bridge of only 7ft.
On the East side of the waterway you have A1A (Collins Ave) where there is some dockage available through some of the Condo Associations. Most will require you to be a member of the association in order to be approved for docking your boat. Most spots are for 30ft boats or less.
BISCAYNE WATERWAY
This can be entered from the South on 32nd and Chase Ave just a little north of North Bay Rd and goes through to 51st and Alton. Fixed Bridges exist on the 32nd street of 9ft if you continue to the north you will have a very small vertical fixed bridge on 41st Street that only has about 4ft vertical clearance. You then on 47th Street have another fixed bridge with 7ft clearance and if you continue on to the open Bay you have 11ft Vertical clearance there.
You have a total of 4 Islands with One and Two being connected and Three and Four being connected. Between Two and Three you have a small canal you can access Sunset Lake which is very protected for all boats. Whether you are on North Bay Rd on Surprise Lake or any of the Sunsets you boat will be very protected from most weather and boat wakes. You have fixed low vertical bridges connecting the islands. Draft can be anywhere from 6ft to 10ft.
VENETIAN CAUSEWAY
There are currently 2 draw bridges that can be accessed from both the East end of the Island group and the West. They open on the 1/2 during the week days and upon request within reason on the weekend. Currently, they are doing maintenance on the bridges and you may have to run from one side to the other. (June, 2015) Be Careful if you come back on the South side as this is a no wake zone.
Star Island the East side is open water with boats going by all speeds all day and night long. On the west side it is a no wake zone going to the Palm and Hibiscus Islands. If you have a bigger boat you'll need to watch your approach between Monument Island and Star Island as there is a flat there on which many boats run aground.
LaGorce Island
LaGorce Island to the West can be very rough from being in the wide open bay and boat traffic. As you pass going to the North side you enter a no wake zone. This will eventually take you to Allison Island and Indian Creek Canal.
Allison Island
Great location that is seperated by 63rd street. To the South you have condos and townhomes with some docks but I believe they are all sold out. To the North you have all single family homes with deep water access that is pretty protected as its a no-wake zone.
Normandy Island
Best kept secret on Miami Beach; where else can you find an Island with a golf course in the middle of it. On North Shore Dr you have wide bay access but boat wakes can be a problem. On South Shore Dr. there is a fixed bridge canal with the Bridge on the East side only having around a 5ft clearance. On the West side the bridge is a little larger around 7ft clearance. The Canal is fairly wide with around 6ft draw.
Biscayne Point Island
You have around the outside of the Island deep water access from most homes on the island. Be careful there is some shallow water close to shore in some of the homes. On the west side of the Island there is a sandbar that is only visible on low tide. In the center of the island there is a little canal that goes though the whole island but has very small fixed bridges to enter of only 5ft.
Indian Creek Island
With some of the most expensive homes in South Florida this Island for the most part is no wake except on the West side where you are supposed to stay away from no less then 100ft but could be more. I always keep my distance when navigating around this Island as the Indian Creek Police will be there watching for you to make a mistake.
Bay Harbor Islands

The Island to the East is predominately condos with some dockage on both the East and West sides of the Island. On the West Island there are single family homes with the homes facing West exposed to a large amount of boat wakes as there is not a no wake zone running in the Channel from under Broad Causeway to just before the Haulover Sand Bar. Out of the Channel it is a no wake zone from there to the East into Bal Harbour and out into Haulover inlet.
I have been hearing other realtors say they are the "Nautical Realtor" I would love to challenge them. My extensive 22 years experience selling real estate plus fishing these waters for over 30 years can prove that no one knows it better than I. If you have a boat and need advice on point, why would you call anyone else? If you like fishing I have a page on Facebook called "the Reeltor" on fishing and real estate. Give me a try and I promise satisfaction.
Tight lines and hope to see you out there.