8 Important Tips to know About Luxury Condos in Miami
Posted by Kenny Raymond on Monday, August 1, 2022 at 11:00 AM
By Kenny Raymond / August 1, 2022
Comment
Miami, FL is known exclusively for its pristine beaches, non-stop nightlife, and fantastic warm weather. Miami is also greatly known for its mind-blowing skyline, high-end hotels on the beachfront, and its Art Deco architecture. Among the sky-high buildings lining the inner and outermost parts of Miami, lie some of the most luxurious condos any city has to offer. Below, we have all the advice you need in order to purchase the first grandeur condo in the Miami area.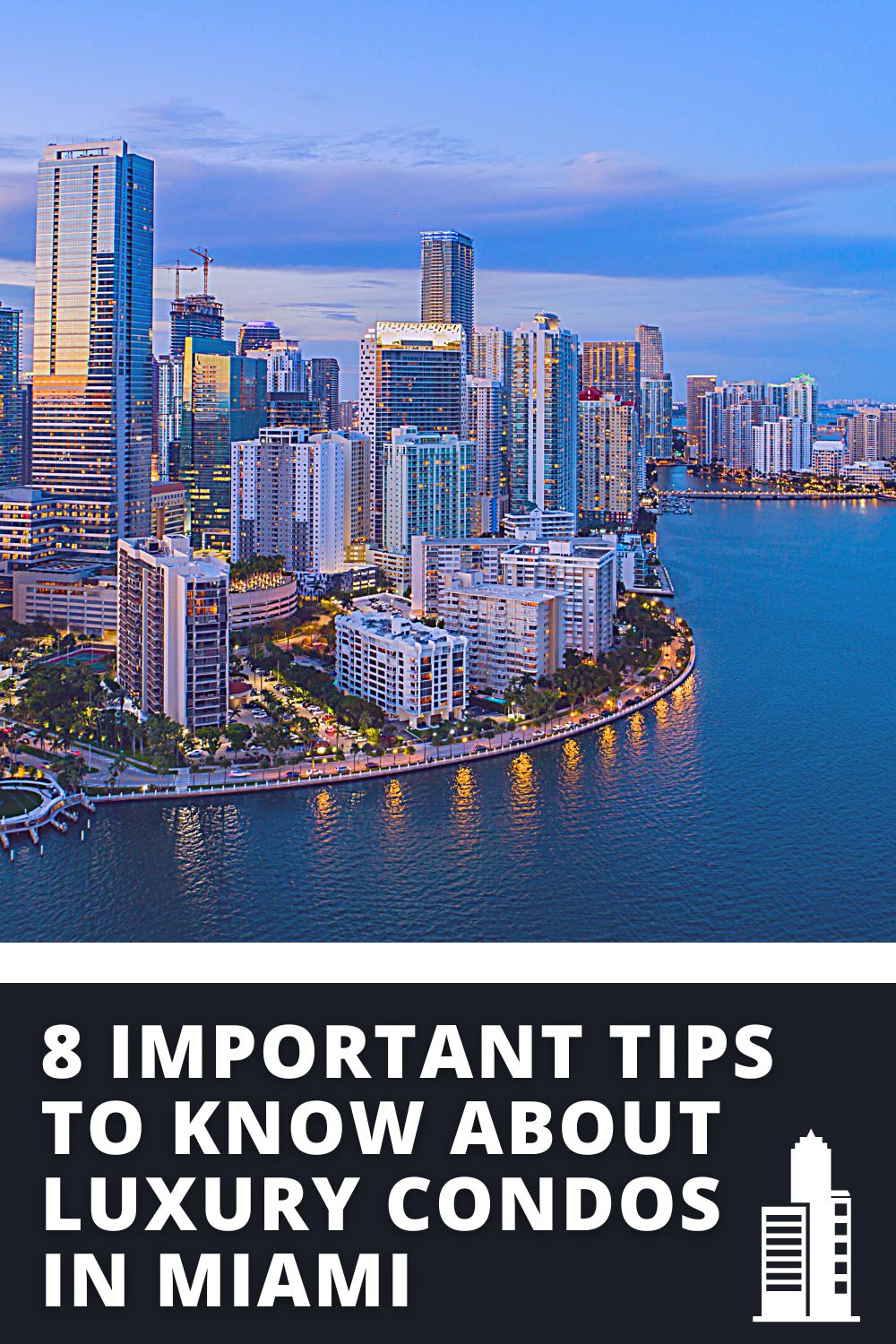 1. Do Some Research
For those who have never done it before, living in a condo means sharing a single property with other people. This may be a culture shock for those used to only sharing the same street as their neighbors. Before choosing a condo, it is important to do the proper research before making the huge decision to move in, this is a safe way that you will be able to ensure that the place you are looking to getting into is the right fit for you and your lifestyle. Looking for reviews on various realtor sites in the Miami area can really help aid in that decision.
2. Check Property Restrictions!
Many condos, not only luxury ones, have very specific rules. One of the biggest rules that many people who are animal lovers run into are the tight restrictions on the allowance of pets. Many areas also have the restriction of loud noises after a certain hour in the evening. To get the most out of your choice of a luxury condo, make sure that there are no restrictions in place that will restrict you or your lifestyle.
3. Is the Location Right for You?
The main questions you need to ask yourself is: what are you looking for in a condo? Do you love the beach and want to be within walking distance? How about transport the importance of public transport? Location and safety should be anyone's biggest concerns. Of course with any city, there are various ratings of areas safe from crime, and some that are unfortunately not so lucky in that aspect. If you are looking into moving to a luxury condominium, make sure you do to right research to ensure you are happy with the distance you are from the city.
4. Look into Common Areas
Many common areas offer pools, workout facilities, yoga studios, and much more. Consider your personal needs, what you feel would be essential to your life in the condo that you are choosing. Luxury condos are usually the top picks for amazing common areas. It would also be a great idea to check into organized social activities held at your chosen luxury condo; many host events such as golfing, parties, cooking workshops, etc...
5. Parking
For those who don't rely too heavily on public transport, but instead their own vehicle, having access to a parking lot is a must! Having to waste time looking for a spot at a condo is inconvienet. Check to make sure that you get assigned parking per person living in your condominium.
6. Ask about Security being Provided
It is essential that you and your family feel safe within your own home, even when you are sharing the property with many other people. When it comes to a condominium that is high-end, you should be getting the safety that you are paying for. Ask the condo management for details on security, what security features are installed in each condo to make sure that you feel comfortable with your purchase.
7. Have the Condo Inspected
Unfortunately it is sometimes common for a luxurious condo to look great on paper, but the same cannot be said for a in-person walkthrough. To guarantee that everything visible or not in your home is up to date and standard, consider hiring an inspection service.
8. Negotiate Prices
Hiring a real estate agent will be beneficial in settling a fair price for you. There is always space for negotiations, even when it comes to luxury housing. The most important thing to consider, apart from the aforementioned, is that you are paying a fair price for what you are getting, as well as the location.
For more information on Miami and the housing market, visit our website.