6 Easy Hacks for a More Organized Closet
Posted by Kenny Raymond on Wednesday, January 20, 2021 at 9:27 AM
By Kenny Raymond / January 20, 2021
Comment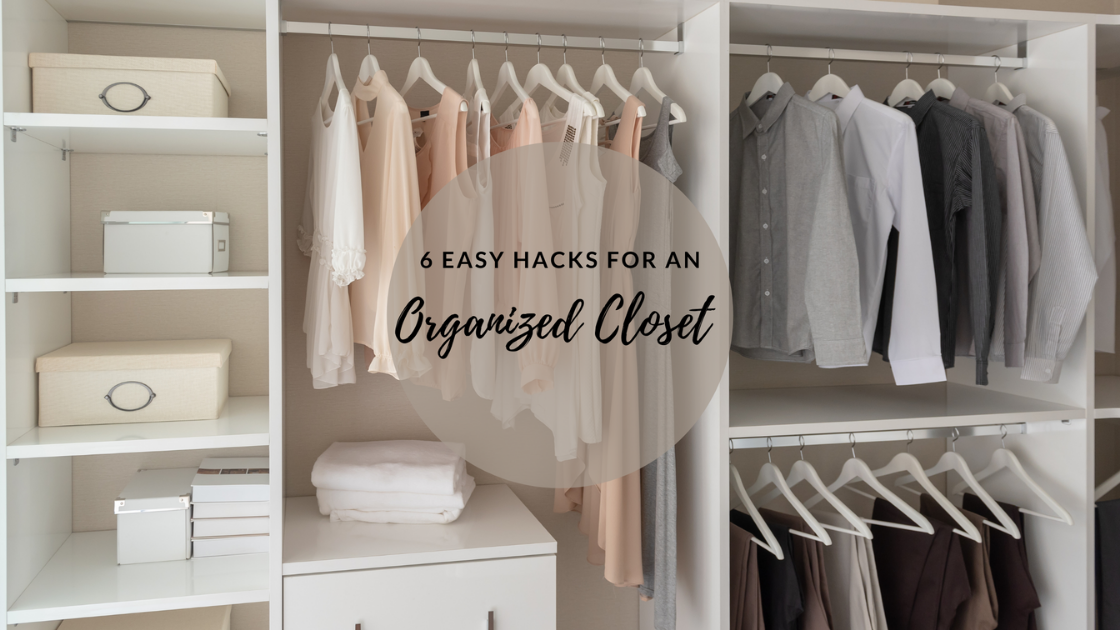 The dreaded small closet, something all homeowners seem to despise. Luckily, you can find a way to make nearly any closet double in size simply by using a few organizing tips and tricks. With so many professional organizers and cleaners out there, it is easy to get overwhelmed when it comes time to revamp your closet space, however rest assured that it doesn't take a miracle worker to give you a little extra space.
Double up the Hangers
If you simply need more space to hang your clothing, try doubling up your hangers. You can purchase hooks that go over the neck of your hanger and create another space to hang a secondary hanger below. This allows for only one hanger to be hung on the actual closet rod which then can double the number of hangers that can be hung, thus saving a ton of precious closet space.
Related: Balcony Gardens
Move the Dresser
Need some drawers? Move your Dresser! Many closets can accommodate a fairly large dresser underneath the closet rod, while this may not work for everyone, oftentimes you can move your dresser into your actual closet to give yourself a few drawers, if your dresser is too big, try a cube shelf with bins instead. You can label the bins to hold a large array of different clothing items from under garments to baseball hats.
Add a Top Shelf
Closets are generally as tall as the ceilings in your room, however framed to have a smaller opening. If this is the case, try adding a shelf that runs along the top of your closet rod so that you can utilize all of the dead space in the very top of your closet. This is a great place to store items that aren't used as frequently as others such as scarves, heavy coats, etc.
Related: Luxury Features that Aren't So Luxurious
Shoe Storage
Shoes take up a TON of space. There are two different ways you can easily add shoe storage to your closet. If you prefer to keep it simple, or don't have much hanging space, simply add a small shoe rack to the bottom of your closet, this will utilize the ground space in your closet that generally doesn't get used. Additionally, you can find hanging shoe storage bags, these come in a large variety of styles ranging from small cubbies to clear pockets to hold each individual pair.
Color Coordinate
While this won't give you any additional space, you would be amazed by how much bigger and more organized your closet feels when you color coordinate your clothes. It cost nothing and instantly makes your closet look neater!
Store Off Season Clothing
Quite simply one of the easiest ways to keep your closet neat is to store off season clothing. If it's summertime, put all of your heavy winter coats and scarves in a bin or bag for the season and store them elsewhere, such as under your bed, in the attic, garage, etc. This limits the amount of clothing and clutter that can be found in your closet at any given time.
Whether you have a walk-in closet that needs a few more shelves, a small closet that needs more rods for storage, or you simply want a cleaner and more spacious look, try using a few of these tips and tricks to revamp your space and give you the closet of your dreams.
If you're currently searching for a new home, are in need of a qualified seller's agent to help you list and market your property, or if you have any questions regarding Miami Real Estate, please feel free to contact our office at any time.