5 Tips for Creating the Perfect 'Bar' Set Up In Your Home
Posted by Kenny Raymond on Tuesday, May 12, 2020 at 11:34 AM
By Kenny Raymond / May 12, 2020
Comment
Did you know that within the last 90 days there has been an 80% increase in the Google search for "at-home bars"? We are all doing things a little differently these days and whether it's virtual tours for real estate, electronic signings, or finishing up some of those home projects, we're finding new ways to do old things. I read an article recently about home improvement projects and how people are taking older dressers and armoires and turning them into in-home bars and coffee bars and I thought this would be a great addition because if a buyer sees this in your home or during a virtual tour, it might be that one thing that stands out among the rest allowing you the offer you really need. But, whether you are selling or not, here are five great tips for creating the perfect bar set up in your own home.
#1. Turn any wasted space into a functional space.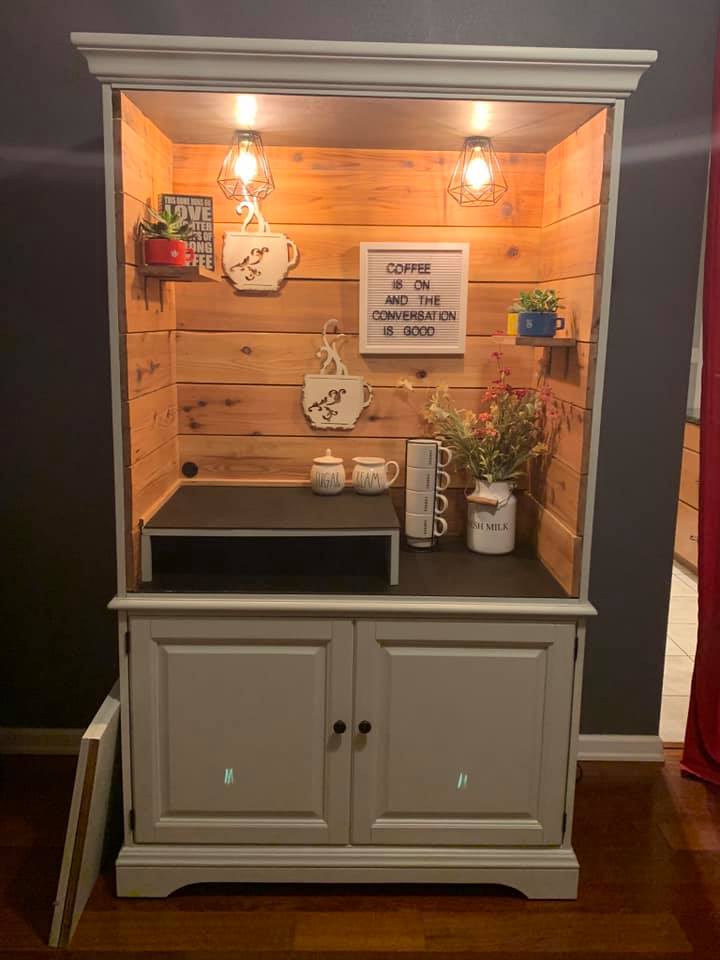 That empty wall that you've been trying to find either the perfect piece of furniture for or closet that you don't use may be ideal for that perfect in-home bar. You could add some floating shelves, a cabinet that you find on a marketplace or that someone is getting rid of, or create a small countertop and console table adding a nice workspace for an at-home bar set up.
#2. Show off your wine collection.
If your fantastic wine collection has been gathering dust in a cabinet, cellar, or just somewhere that's hidden, maybe it's time to show it off. You can choose a glass-fronted wine cooler, a wine storage refrigerator, or there are almost endless styles and shelves for wine that does not need to be refrigerated that you can find online or even just repurpose or reclaim an old piece of furniture.
#3. Use reclaimed wood.
Reclaimed wood is a big draw right now and whether you creating a shiplap wall, building a cabinet or wine bar, or simply taking an old, antique wardrobe and converting it into a beautiful coffee bar, reclaiming wood is the ideal restoration and recycling idea.
#4. Stock up on bar essentials.
Make a list of everything you want in your bar whether it's a wine bar or coffee bar. You can stick to buying all the cores and fancy tools for mixing, wine glasses for both champagnes, sparkling, whites, and reds, or create a unique wall of mugs with a fancy espresso machine, syrups, and a milk frother.
#5. Make sure everything you need is located at the bar.
This may mean installing a small refrigerator or wine fridge at your bar if you're planning on serving cold cocktails or cold wine. You might also consider a small fridge for milk, creamers, and other items perfect for the perfect latte or mocha. Maybe you'll need an icemaker, a wine dispensing machine that you can load bottles into and simply push a button to disperse the wine at the perfect temperature. Perhaps a small corny keg with spout ideal for the guy's weekend.
Whatever you decide to do, there are hundreds of ideas out there. Check out this Pinterest Page for Home Bar Set Ups and if you're concerned that you might do something buyers will hate in the future, feel free to give me a call. I can tell you what Miami home buyers are really looking for.