5 Tips for Choosing the Right Luxury Agent
Posted by Kenny Raymond on Tuesday, June 9, 2020 at 11:10 AM
By Kenny Raymond / June 9, 2020
Comment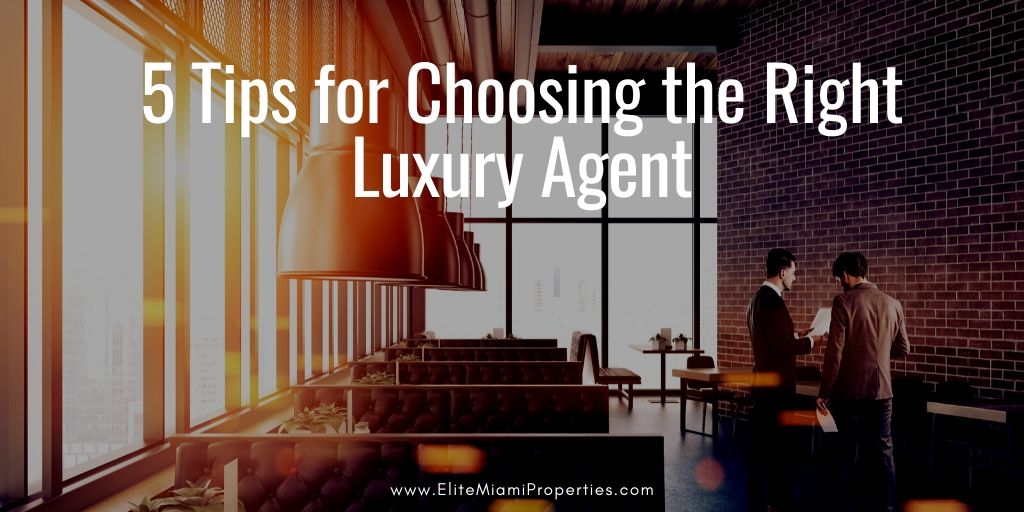 Luxury real estate is in a category all its own. There are specific luxury buyers, a demographic that is somewhat set apart from the general public, and whether you are a celebrity or not, choosing the right real estate agent for your needs, especially with selling a luxury product of any kind, takes finesse and experience. I've worked in the Miami luxury real estate market and Brickell for numerous years and understand the market and how to target our prime demographic in order to get the right buyer in the door. Whether your listing your property on the MLS or keeping it exclusive, here are five tips for choosing the right luxury real estate agent to sell your property.
#1. Accreditation and affiliation.
Clearly, you must have a licensed real estate agent or broker that is licensed within the community or county in which you are selling. You want someone that is very familiar with the area, understands the buyers and has the right accreditation to sell luxury homes. Rules and regulations of real estate change overnight, it seems, and a great real estate agent needs to stay on top of all of these changes to offer the best service for clients.
#2. Understand what selling luxury really means.
A luxury home means that it is at the higher end of the pricing scale and offers luxury amenities such as swimming pools, unique rooms, functions, high-end materials, finishes, size and location. Because your home may not be the norm, it takes an experienced real estate agent that is familiar with luxury in order to price it correctly. You don't want to leave money on the table but you also don't want to sit on the market longer than you have to.
#3. Use an agent that understands the buyers.
Luxury home sellers typically appeal to luxury home buyers. Whether it's the buyer's first home, or fifth, those luxury buyers require expert customer service as well and dealing specifically with the luxury buyers agent skills in negotiating strategies. I know where the buyers are, how to market to them, and I have connections in the luxury real estate market throughout the Miami-Dade County area.
#4. After-sales service.
My service doesn't stop when you close on the home. Let's talk about your future needs moving forward and how else I can assist you for purchasing another home, putting you in contact with the luxury real estate buyers agent in another area if that is your plan, and prepared to assist you in every step of the way to make sure that the deal does not fall through.
#5. Personality.
You have to click with a person regardless of their experience or track record. If everything else checks the boxes but our personalities don't mesh, I want to be transparent in that reality and help assist you with the right agent for your needs. Not everyone can work together and I want to make sure you're comfortable throughout the process, you feel comfortable with people coming into your home, and the strategies I use to price, market, and negotiate for your best interests and priorities.
For more information on how to work with me when selling your luxury Miami home,
contact me at any time at 786-443-9649