5 Can't Miss Festivals This Year in Miami
Posted by Kenny Raymond on Tuesday, September 6, 2022 at 1:16 PM
By Kenny Raymond / September 6, 2022
Comment
Wrapping up this year with a few months left, there are a few exciting lineups of events taking place in Greater Miami, FL, a fun and festive city. There are so many fun and spectacular events that are kept on the books every year. The wonderful, warm, tepid year-round weather makes any time a great time for any exciting event.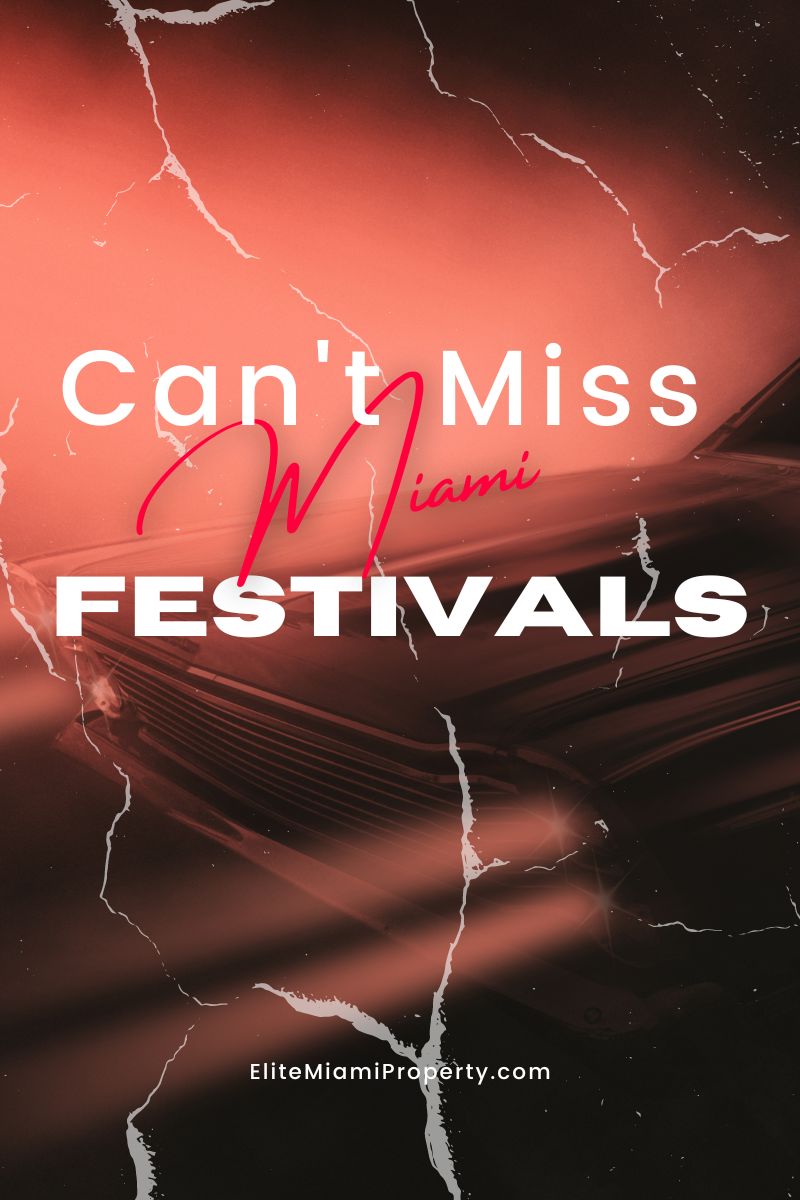 Below, find a list of 5 annual events that may make your trip to Miami turn into an annual affair with friends and family.
1. Splash Cooler Wet Fete
Fri, October 7, 10:00 AM/ Miami, FL
The Splash Cooler Wet Fete is an annual event for Miami carnival attendees for true soca lovers. It is recommended to pack some coolers with water, as the weather is typically on the warmer side, and some adult beverages to share with friends. The dress code is swimwear, with tickets to be released to ticket holders only. Some events at this event will include:
Live Performances
Waterslide and Water Truck
Live Music
All-Star Soca DJ Cast
Caribbean Cuisine
2. South Beach Seafood Festival
Wed-Sat, October 19-22, 2022
The South Beach Seafood Festival will be four days of curated culinary celebration of South Florida's top chefs and masterminds of leading seafood restaurants in the area. This event has been voted the Top Food Festival by Food Network & USA Today. All ages are welcome to the venue, taking over Miami Beach, FL this October. Below is further information on the event days that will be split up:
Wednesday, October 19, 2022, 6:30-9:30 PM: An evening at Joe's Stone Crab
Thursday, October 20, 2022:

Crabs, Slabs, and Cabs at the Kimpton Surfcomber Hotel

Friday, October 21, 2022, 7-11 PM:

VIP Chef Showdown at Lummus Park (On the sand, South Beach)

Saturday, October 22, 12-7 PM:

Main Event of the South Beach Seafood Festival at Lummus Park (On the sand, South Beach)
3. Craft: Spirits n Cocktails
Fri, October 7, 2022, 6:30 PM/ Miami, FL
The Craft: Spirits 'n Cocktails is back this year for year 9! This event will allow for a sampling of over 100+ of the best Gins, Rums, Tequilas, Vodkas, Whiskies, and Liquors with the addition of delicious Cocktails. Located in the extremely beautiful Cruz Building where the atmosphere allows for the perfect "Cocktail culture." Hors d'oeuvres from various local restaurants will be served alongside live music for drinking enjoyment, with a hidden addition of a cigar terrace.
4. HalloWave Family Fun Fest
Sat, October 29, 2022, 3:00 PM/ Miami, FL
The most anticipated holiday weekend in Miami presents new and fresh concepts for Halloween coming back this year in the form of the HalloWave Family Fun Fest. This year, the ghoulish fun will be amped up with vendors, music, entertainment, immersive decor, and memorable activities for the whole family to enjoy. Dogs that are well-behaved on leashes are invited to join as well. Kiddos are encouraged to wear their costumes!
5. Hay Maze Miami
Fri, October 21, 2022, 4:00 PM/ Miami, FL
For both the months of October and November with weeks between, Miami residents will have the opportunity to experience this fun northern Autumn tradition called Hay Maze Miami. A Fall-pop up will offer an immersive selection of activities of seasonal foods, drinks, photo opportunities, and a beer garden. Children ages under 2 are offered admittance for free, and the festival is dog-friendly as well. Halloween tickets are sold separately.
When you're ready to buy or sell in the Miami real estate market, contact me! Kenny Raymond. I love this area, I know the area, and I can help you get the best deal when buying or sell for top dollar!