12 Special Occasion Restaurants You Can't Miss in Miami
Posted by Kenny Raymond on Monday, October 10, 2022 at 10:56 AM
By Kenny Raymond / October 10, 2022
Comment
The history of fine dining begins we see in France when, at the end of the 18th century, the French Revolution led to many displaced chefs looking for work after losing their positions in aristocratic households. The 3 typical characteristics include traditional the most expensive dining experience with popular holiday and special occasion options, typically multi-course, and an elegant a la carte menu option.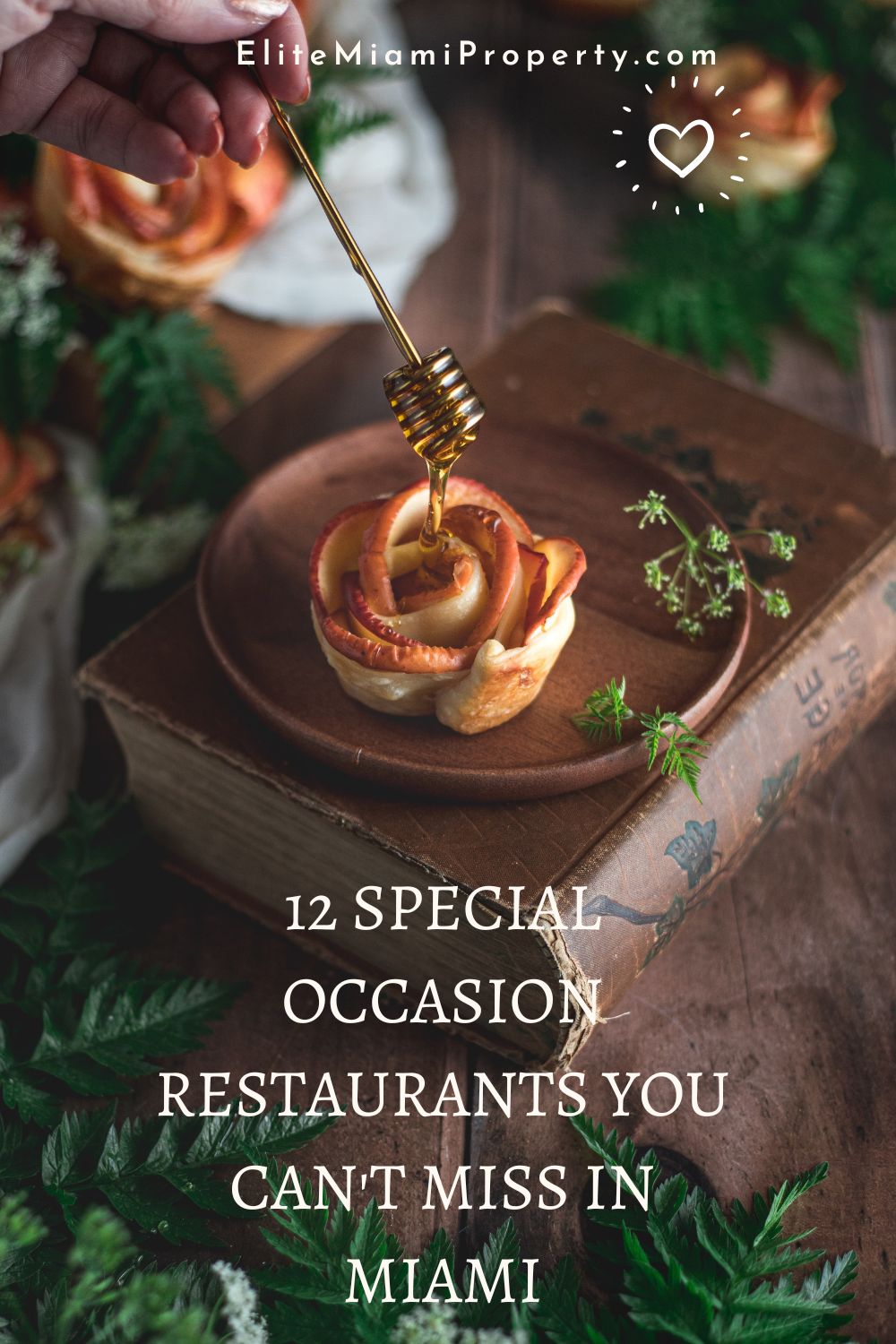 It is no wonder that when you visit the extravagant splendor of Miami, FL (or any city for that matter) you would want a special night to be wined and dined in the fine city. In a sea of restaurants, finding the ones worth the hefty bill can be a challenge. Just because the items on the menu of various restaurants are expensive doesn't mean that it is worth a visit on a special occasion. Not all restaurants are created in the same light, and when it comes time to celebrate a night out on the town, there is much to take into consideration from the quality of service to the food and the attention to detail. Continue to read to find 12 of the finest restaurants and experiences you can't miss when visiting Miami, FL.
The Surf Club Restaurant
The Surf Club Restaurant by Thomas Keller is a restaurant that features a colorful menu of classic continental cuisine reinterpreted by the legendary chef. The ambiance of the setting will transport diners to a romantic '50s environment with dark blue and wood tones accompanied by cozy dining tables. Guests of this restaurant can dine on popular dishes including the avocado Louie, New York strip steak, and a table-side prepared Caesar salad. Every detail of the experience is calculated with detail to perfection, all the way down to the interactive butter service.
L'Atelier de Joël Robuchon
The L'Atelier de Joël Robuchon of the famed chef Joel Robuchon is led by several longtime protégées, gaining the reputation as one of the best-known fine-dining experiences in the world. The only restaurant to receive two stars in the Michelin Guide upon its arrival in Florida. Guests dine at counter seating similar to sushi counters, dining on a meal filled with tapas-style dishes. There are tasting menus, with plenty of a la carte dishes such as the La Caille made with caramelized quail, foie gras, and potato puree, and the Le Boeuf made with prime ribeye, butternut squash tartlet caramelized onion.
COTE Miami
Earning recognition and stars from Michelin at both their Miami and NYC locations, Cote is a Korean steakhouse. Each table is equipped with a grill where various parts 0f the meal you order are cooked in front of you to your liking. The Butcher's feast, starting at $64 per person is quite the deal and features four cuts of meat and several (unlimited) sides. All wines by the glass are served out of magnum bottles.
Klaw Miami
Klaw is housed inside of the historic Miami Woman's Club as a surf n' turf spot. Nearly taking five years to open, the restaurant was definitely worth the wait. Dining here is a splurge, featuring the Norwegian King crab claws served table-side and slathered in garlic butter sauce. A tip to those looking for a special experience is to arrive early to grab a drink on the 6th floor for some stunning views of Biscayne Bay and South Beach from Edgewater's only rooftop bar.
MILA Restaurant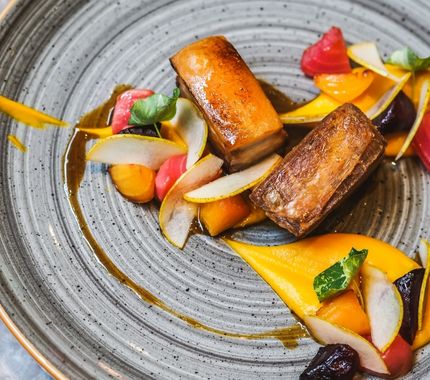 Mila is in a swanky, massive 13,000-square-foot space that boasts a serene, stylish indoor dining area. Featuring an outdoor terrace complete with an intimate omakase-style bar, with bites of shawarma-spiced wagyu dumplings, Alaskan king crab tempura, and a wide assortment of nigiri and sashimis.
Forte Dei Marmi
Located in the swanky South of Fifth neighborhood, Forte Dei Marmi is a place where diners who crave high-end Italian food by chef Antonio Mellino can get their fix. For a romantic setting akin to a scene from The Lady and The Tramp expect candles to light the dimly lit space that is both inviting and intimate. The menu includes some sharing options such as Florentine-style T-bone steaks, tagliolini with red prawns, whole Mediterranean fish, and fettuccini with mushrooms and black truffle.
Zuma Miami
The Zuma Miami is a mainstay in the Miami food scene that features a modern take on Japanese food, inspired by traditional izakaya-style dining. This restaurant boasts a non-stop crowd of sleek, chic celebrities, scene-chasers, and food lovers.
Stubborn Seed
Jeremy Ford, the Top Chef winner, has been executing high-end meals at the Michelin-starred Stubborn Seed. Featured dishes include seared foie gras with pumpkin, crispy duck with creamy grits, and poached Maine lobster. The menu rotates constantly with many seasonal a la carte options, alongside eight-course tasting menus.
Estiatorio Milos by Costas Spiliadis
Located in the heart of South Beach, Milos is a swanky establishment that doles out Mediterranean food alongside a whole lot of ambiance. The menu has shared space with other notable plates from the region, including Greek dishes that have earned their keep with grilled vegetables, yogurt, octopus, and fried potatoes.
Joe's Stone Crab Restaurant
Joe's Stone Crab Restaurant has stood for 100 years and is seen as an institution and thought to have started the stone crab craze seen in Miami to this day. Exuding to a classic elegance not found in many restaurants, you will find that this is a must when you visit. Ordering the namesake stone crabs served with a mustard sauce is a legend in its own right, but these aren't the only notable item on the menu. The menu features an assortment of seafood dishes from steaks, to popular fried chicken. There is something for all tastes at this restaurant.
La Mar by Gaston Acurio
Located in Brickell at Mandarin Oriental the La Mar by Gaston Acurio offers a combo of Novo-Andean fare and Asian-Peruvian cushion dishes. The well-executed items on the menu of classics like Lomo saltado, local offerings like yellowtail snapper, and many ceviche options.
Sexy Fish Miami
Known for its overwhelming opulence, Sexy Fish Miami of Brickell is worth the special occasion visit for those looking for an over-the-top night out. The menu features Asian fusion dishes such as sushi, sashimi, miso-glazed cod, and Japanese A5 wagyu. Ask personally for the omakase menu to be served 10 of the restaurant's signature dishes alongside cocktails. It is the prettiest menu around.
For more local information on Miami and all real estate in Miami, and the most popular scenes to visit when enjoying the city, check out our website!