10 Fun Fall Activities to Add to Your Bucket List This Season in Miami
Posted by Kenny Raymond on Tuesday, October 25, 2022 at 12:30:49 PM
By Kenny Raymond / October 25, 2022
Comment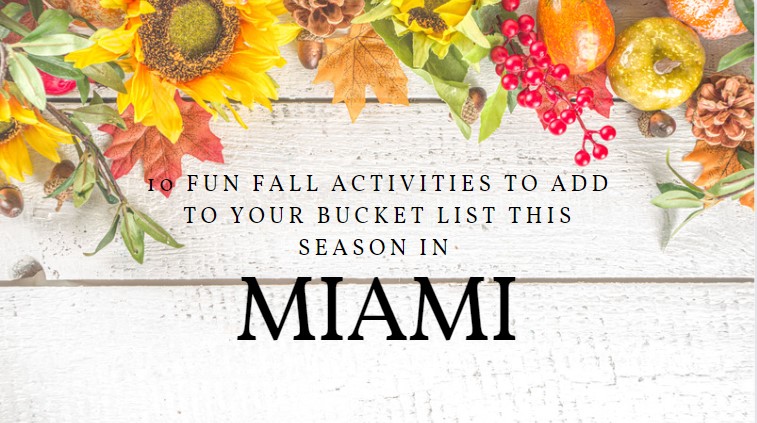 November is the month of thanks and giving, a time to spend with your family and friends, whether it is for Friendsgiving or Thanksgiving. But there are many other activities and events when in the city you can do leading up to the day of turkey eating and football watching. Continue to read to find 10 fun fall activities to add to the bucket list this fall when in Miami.
1. Take a Scenic Train Ride
The best way to see the changing leaves is to embark on a fall foliage train ride. A big question when in Miami is if the leaves change with the season. Many commonly Florida-grown trees do go dormant and lose their leaves in the upcoming winter months. There is nothing more magical than calmly cruising through the gorgeous autumn landscape- especially from the comfort of a train where you can sit back, relax, and take in the view. The Virgin scenic train route begins in the hustle and bustle of the city of Miami and leads its passengers through the city landscape to West Palm Beach. The full train ride is 1 hour and 15 minutes of traveling and there is a pit stop in between Fort Lauderdale.
2. Tour a Winery
Fall is one of the best times of the year to visit a winery. Not only are vineyards especially beautiful this time of the year, and you can experience the excitement of fall harvest time. The Miami Wine Festival starts November 19, where you can sample some of the world's best wines from a selection of fine and sparkling wines spanning 10 countries, including Italy, France, the U.S., Germany, Spain, Portugal, South Africa, Argentina, Chile, and Australia. This year's festival features a Sparkling Wine Room where they will serve champagne, Prosecco, cava, cremate, Sekt, and rosé.
3. Attend a Fall Festival
If you and your family or friends are looking for the ultimate fall experience, there is no better place to celebrate the season than your local fall or harvest festival. This will allow you to take in the autumn scenery, hang out with a couple of scarecrows, and don't forget to pick out a pumpkin to bring home! The last day of the Harvest Festival is at The Berry Farm, where you can celebrate fall with corn mazes, hay rides, a pumpkin patch, pony rides, games, live bands, food, and a host of activities for families. It is a fun-for-all-ages you won't want to miss.
4. Get Ahead on your Holiday Shopping
The hectic holiday season will be here before you know it. It can be a stressful time, but with Black Friday coming up around the corner, why not enjoy a stress-free fun shopping event, by coming up with some gift ideas for everyone on your list? You will thank us later when it's one less thing you have to do. We have compiled some of the best Christmas shopping in Miami based on different interests in gifts for the season.
Design District:

The neighborhood is a conglomeration of different design outlets, art galleries, home decor stores, toque shops, restaurants, and clubs. This district is best recommended for Christmas shopping because high-end specialty one-of-a-kind shops are all located within walking distance.

Lincoln Road:

The Lincoln Road Shopping District is where fashionable shops are. This road is best recommended for Christmas shopping because it features stores such as H&M, Anthropologie, Lululemon, Scotch & Soda, Taschen Books, and loads of restaurants.
5. Have a Fall Photoshoot
There is no denying that autumn is one of the prettiest seasons of all. It would be wise to take full advantage of the beautiful scenery with some great fall photos. Seasonal Photography Miami offers mini photoshoot sessions, with seasonal portraits including Spring and Fall shoots, family portraits, and many different photographers to choose from.
6. Tailgate at a Football Game
With autumn comes the seasonal round of football season, meaning it's time to cheer on your favorite team at a fun tailgate party! Complete the day with a potluck featuring some great game-day food. November 26 will see Pittsburgh playing Miami FL.
7. Run a Fall 5K
Ah, crisp air! Autumn's cooler temperatures make for the perfect weather to go on a run, and an even better time to sign up for the marathon you've been thinking of running for years. On November 24, the Turkey Trot 5K and 10K and Kids Trot will be open to the public through Lifetime Fitness. Afterward, you will be able to enjoy the finisher festival, along with many tasty refreshments.
8. Go on a Camping Trip
Forget camping in the summer. Autumn is the best time to pitch a tent in the woods, with cooler temperatures, fewer mosquitos, and plenty of opportunity to take in fall's wonderful sights. The John Pennekamp Coral Reef State Park in Miami is the best undersea park that grabs the attention of many around the year for its exotic display of marine life.
9. Cozy up With a Book
The fall season couldn't be a more perfect time to curl up with a good book in your coziest sweater. Pair your gloomy day read with a latte or hot chocolate and your favorite read for the complete fall aesthetic. Select a stack of books from some one-of-a-kind book shops located in Miami:
10. Partake in Some Yummy Pumpkin Pie
Is it truly autumn if you haven't gobbled up a slice of delicious pumpkin pie? Visit some stunning, unique pie shops exclusive to Miami to get your fill for the season with fall favorites featured on every menu!
For more fun Fall ideas and local information, check out our website!