10 Best Burgers in Miami Beach
Posted by Kenny Raymond on Tuesday, November 22, 2022 at 9:52:46 AM
By Kenny Raymond / November 22, 2022
Comment
When it comes to burgers, you just can't beat the taste. There is something about a juicy burger that other meals just don't offer you. It satisfies your tastebuds and can be part of a satisfying meal or even just a much-needed snack. Burgers are a lot more versatile than a lot of people realize. They aren't only for meat lovers either, as vegan burger options are just as popular. And when it comes to city living, Miami Beach, FL has some of the best burger joints to offer. Continue to read to find 10 of the best burgers Miami, FL has to offer.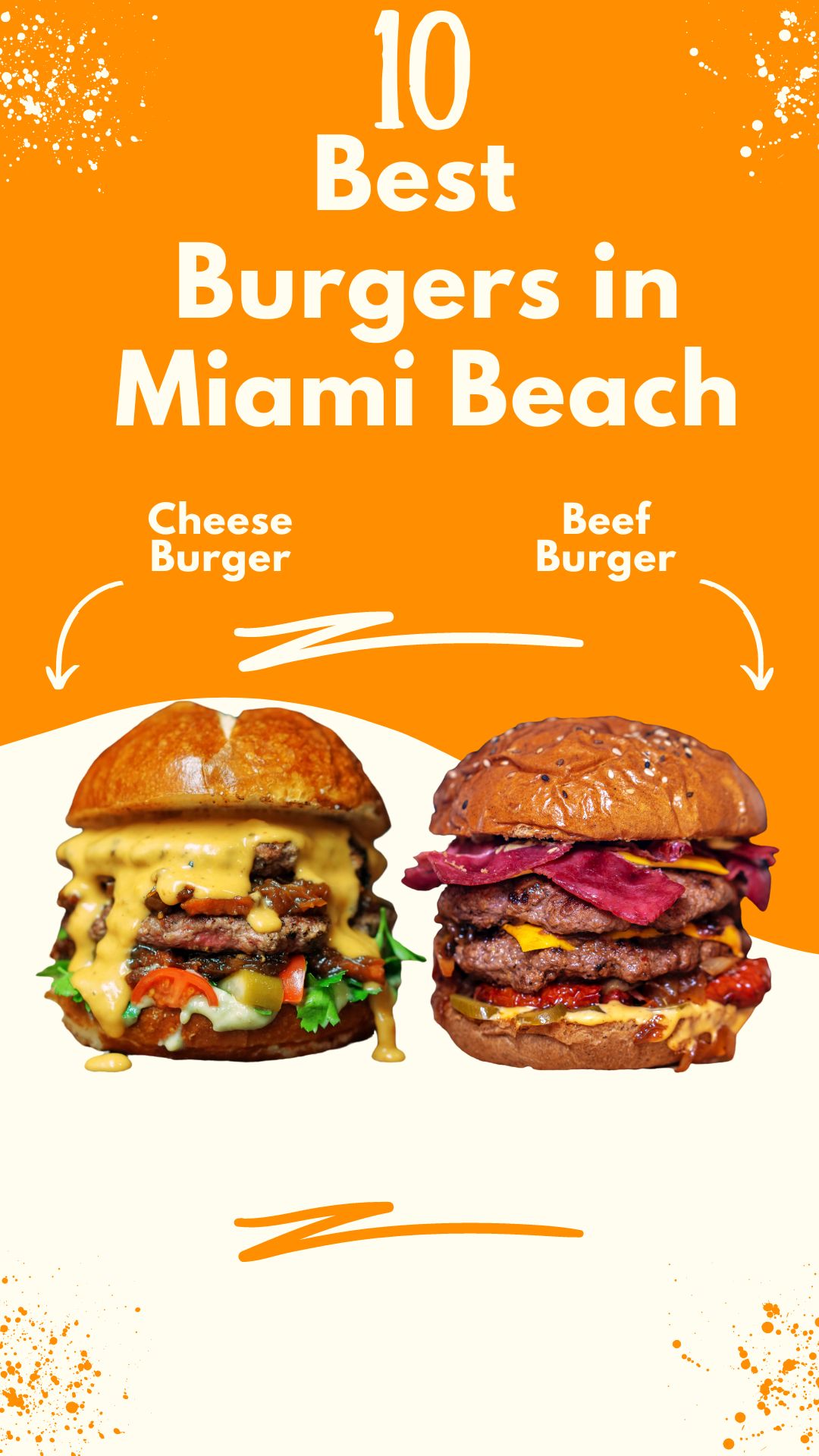 1. The Special @ United States Burger Service
The United States Burger Service or the USBS delivers top-quality ingredients as well as unique combinations and names that are hard not to giggle at. It's hard to go wrong with this classic burger, especially when the juiciest patties to offer are squished between two house-made potato buns. The rotating specials served with different types of cheeses and fresh sauces are something else.
2. The Classic Cheeseburger @ Ted's Burgers
Ted's take on the classic burger finds the patty ultra smashed wafer-thin so that the edges find themselves crisp and caramelized on the griddle before the cheese application. You can get Ted's burger any Sunday from a tent outside J. Wakefield Brewing.
3. The Chug's Burger @ Chug's Diner
Michael Beltran has extravagant tasting menus, and it will come as little surprise when this talented chef puts out a stellar double-patty burger, which can be ordered at Chug's Diner. Whipped up by some of the finest cooks in town and whisked next door to your table at a whiskey bar, how much more perfect can it get?
4. The Burger @ Off Site
Down at the tiny Little River brewery to Off Site and you will be astounded when "the burger" arrives. Just a simple patty sitting alone on a sesame bun, it initially does not look like much, but you will find something special in every single ingredient. The bun is fluffy, and the patty is umami-packed, thanks to a fatty flavor mix of brisket, short rib, and koji-cured chuck. Paired with pickles, a special sauce, and American, none of the meals will look overly fancy, yet is somehow perfect.
5. The Royale @ Le Chick
At Wynwood's Le Chick the real star of the show is a sneaky little burger called the Royale with cheese: two juicy smash patties buried in a deep layer of cheddar cheese between a fluffy house-baked bun. Similar to an In-N-Out burger, it is inhalable.
6. The Veggie-Chipotle Black Bean Burger @ Lost & Found Saloon
The Lost and Found Saloon is a western-themed kitschy charmer, known for an impressive array of vegetarian-friendly-eats, and an array of craft beer assortment. The veggie-chipotle black bean burger is a spicy little three-bean veggie patty that sits on sourdough, adorned with sliced red onions, plum tomatoes, coleslaw, and a requisite pickle spear. Add-on options are almost endless and include cheese, avocado, portobello, and grilled eggplant.
7. The Organic Veggie Burger @ OneBurger
OneBurger is Gable's favorite burger-bastion and is the holy grail for patty fiends. Veggie burgers are offered up in their simple little black-and-white digs. They offer a whopping five veggie burger options, including a BBQ version, a "japones" concoction, and a portobello and walnut-crusted goat cheese selection. The Organic Veggie Burger is a house-made 12-ingredient Pattie topped with baby greens, tomato, and balsamic spread on a whole wheat bun.
8. The Veggie Burger @ LoKal
A recent addition to the all-too-limited eating options in the Grove, LoKal serves up all kinds of beefy creations, but if you're on the veggie bandwagon, they always deliver. The generous-sized veggie delight is made from a sweet and savory concoction of oat bran, brown rice, beets, and prunes. It is served with mayo, French, lettuce, tomato, pickles, white onion, and melted jack. Don't skip the award-winning fries to your order.
9. The 5 Napkin Veggie @ 5 Napkin Burger
The 5 Napkin Burger is a trendy, super-sized South Beach burger den that has made ginormous 10-ounce patties, mouthwatering milkshakes, and a crazy beer selection. The veggie burger beats it all. Loaded with superfoods, The 5 Napkin Veggie is made from scratch in-house and packed with beets, carrots, mushrooms, brown rice, wheat berries, sunflower, lentils, and parsley. That is one serious meatless feast, topped with 5 Napkin sauce, you may never go back to meat.
10. The Black Bean Veggie Burger @ Green Gables Cafe
Shown as a popular spot for health-conscious working stiffs down Gables-way, Green Gables Cafe is a family-owned establishment that makes it easy to enjoy seasonal, organic environmentally-conscious eating. Their black bean veggie burger comes topped with tomato, romaine, and garlic aioli on a multigrain bun. It's partnered with sweet potato home fries and your choice of cheese (go for the goat cheese).
For more local information about the best burger joints in Miami Beach, FL, or surrounding areas, check out our website.